Do you live in Rwanda, and are you looking to buy a house? Are you a Rwandan diaspora looking to invest in real estate in Rwanda? If yes, then read on; this is for you!
As the real estate business in Rwanda continues to grow, there is room for more affordable properties. The growing middle-class currently has two options. The first is to build, which can be time-consuming and is usually more expensive due to lack of experience. Otherwise, they opt to buy and, often, sacrifice quality for affordability. This upcoming residential development defies the odds by offering high-quality townhouses for sale at affordable prices.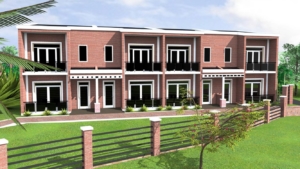 Valleyview Estate is a multi-phase development that sits on top of Gisozi, overlooking one of the most beautiful valleys of Kigali. The estate that is being developed by Bwiza Projects Ltd spans over 6,000 square meters that will include ten townhouse units and an apartment complex. Phase 1 of the development has four 2-bedroom townhouses, while Phase 2 consists of 3-bedroom townhouses, each with a staff quarter. Two of the 3-bedroom townhouses are detached, creating more privacy. We recently visited the estate and Mr. Keith Woodward, the Managing Director, together with the Sales & Marketing Director, Josiane Bwiza, gave us a tour. The construction of phase 1 officially started in May 2019 and is set to be completed by April 2020, while phase 2, which is also underway, will be completed in September of the same year. The subsequent and last phase of the development will be an apartment complex.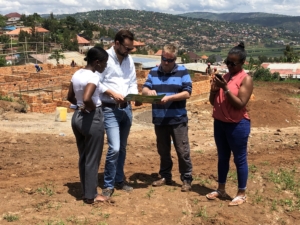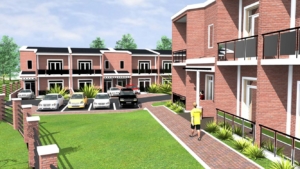 Mr. Keith on tour at the construction site (right) | Front view of the 3-bedroom townhouses (left)
Features of the Estate
All the houses boast a European style kitchen with fitted appliances including an electric oven and professionally installed smoke alarms. The townhouses also have modern bathroom suites, a washing machine, and a fitted wardrobe. All the units have balconies on the front and back of the house, allowing you to revel in the beauty of the sun setting on the wetland valley.
In addition to the above features, the estate has a wastewater treatment facility that fulfills the highest quality standards. In general, quality and excellent service is the focus at Valleyview Estate, which is further demonstrated by the following shared features:
24/7 Security: Access controlled estate with CCTV security system and professional security guards
Internet Access:

Excellent strength Internet

Estate Services: Gardening, refuse collection, and wastewater treatment is provided for all households and common areas. Laundry and house cleaning available (additional cost).
Leisure Facilities: On-site pool, bar, restaurant and gym for all residents
Gisozi is an up and coming suburb, and the estate is in close proximity to the main road and shopping centers. The convenient location of Valleyview Estate, together with high standard construction, makes it a worthwhile investment.
The Asking Price
While you may be wary of buying off-plan, this comes with the advantage of customizing your house without the hassle of independent construction. The price tag for the 2-bedroom townhouses is 75,000,000 RWF while the 3-bedroom townhouses are at 95,000,000 RWF and 98,000,000 RWF for the detached house. You are in luck because the developer struck a favorable deal with a Rwandan bank to facilitate financing.
Deals this good don't last forever! Contact us today via info@vibehouse.rw or call ‭+250 788 639 023. We're happy to assist.