10 Questions to one of Kigali's top interior designer – Teri Clar – on inspiration, Made in Rwanda and tips for your property in Kigali!
During this unprecedented time in history, most of us are staying home. With a little more time on your hands, you're probably coming up with ideas to change this around. Interior design is naturally tied to the real estate services that Vibe House offers in Kigali. In addition, to helping you find the right house or apartment, we want the space you live in to reflect your personality and be functional to your needs. This is why we had a chat with one of Kigali's top interior designers – Teri Clar. Teri is the CEO and founder of Nafasi Interiors + The Design Bar at Nafasi which is located in Kimihurura.
Teri has extensive experience in creating interiors of our dreams and in addition to that, her boutique shop is full of goodies from the Geo Vase that we can't get enough of to gorgeous AND affordable furniture. We had so many questions but we kept to the 10 most pressing ones. We want to hear from you too: do you like Teri's work as much as we do? Do you have a question for Teri? Leave a comment below.
1. When and how did you get started in Interior design?
A: In 2013 I started my interior design business, NAFASI, in the DC area all after studying Art + Business in NY, going to the Peace Corps in Tanzania, and interning for an interior designer in DC!
2. What sparked your interest in the Rwandan market?
A: It was just chance that brought me to Rwanda actually. My husband wanted to come to Kigali and work here, and I happily joined him! It has been a very lovely experience being here ever since.
3. We noticed you are most focused on Made in Rwanda, Why Made in Rwanda and What are your biggest inspirations behind your designs?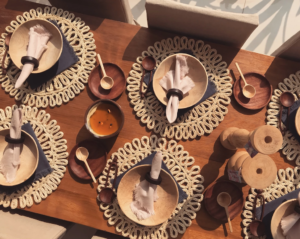 A: I think making things locally here in Rwanda is the most accessible way to get quality pieces in your home. Of course, you could import, but there is no character in many of the imported items you see here, and it is so expensive. When you make furniture and accessories here, the options are endless with what you can do! If you can draw it up, you can figure out a way to make it, which is much cooler.
4. What are your typical questions to your clients before designing their homes?
A: I will sit with a client and literally ask 100 questions. The point is to draw out their aesthetic appeal, and their functional needs for each space. We want their wishes to come to life! I go through photos together with the client and learn what they like and dislike with each one, and interrogate them on the way they use their space currently and how they want to do so in a better way with their new design. I dig into as much as I can!
5. Do you have situations where you have challenges with having to design a complete home with solely made in Rwanda products? If so, what do you do to ease them?
A: This is pretty much why I opened The Design Bar actually! I had to design more and more new pieces from scratch to complete my projects to the standard I wanted. I felt limited in choice, so I assumed the market must feel that as well. I wanted to create more pieces with great design, but that were made locally and sold at a reasonable price. Now you can find those kinds of pieces in the shop. You'll find sleek chairs that don't come in outdated sets, cabinets with interesting features designed for multi-purpose, deeper more comfortable sofas, curtains with fun unique fabrics, and generally a more creative use of the same materials and resources we all have access to locally.
6. What is your favorite room to design?
A: Interesting question! That's hard. I guess a Living Room is going to usually be the place you walk into and see first in a home, so that could be the favorite for me since it sets the tone of the whole house. It's also really fun to design commercially because you usually get to explore more creative color schemes and ideas. That always gets me excited!
7. Could you tell us about a project from your portfolio here in Rwanda that you are most proud of and what it reflects in you as an Interior Designer?
A: One project that I've done that really stands out is the guesthouse in our backyard at home! It was super fun to design the whole space as an experience for visitors. It started out as just an outdoor kitchen and guard room, and it was not in a very good condition. We transformed it to a studio where guests love to stay now! It has a bedroom, living room, and kitchen, all open to each other, and a really nice private bathroom. We knocked down walls, renovated the bathroom and changed the location of the door. We recycled the kitchen cabinetry from our house to move into the guesthouse, so the space could have a nice kitchenette. This project was a testament to my creativity for sure. The studio is bursting with color and energy now, and every little detail is covered so guests enjoy their stay. It is called The Art House on Airbnb if you're interested!
Check out the amazing transformation here.
8. What is your favorite piece of furniture in your home?
A: Hmmm, I have 3! One is our kitchen island. It was designed to entertain, and that is what we do all the time. It is huge, with the oven built in, so we can face our guests. It's tall because we are, and the other side is lined with stools. That's probably my favorite. I also love my office chair. I work from home a lot, and I like to have a comfortable place to sit for long stints of creative time. Plus it's pink and gold and super cute! Then for the same reasons, I love our sectional. It's extra big, and super deep. The carpenter I made it with thought I was crazy! But we are always entertaining, and lounging around that sectional, and we love it!
9. At what stage during construction is an interior designer supposed to come in?
A: I have been brought in at all stages of the process. There's no right or wrong way, but the earlier you get your designer in, the more time they have to correct anything, or just highlight any issues you may not have thought of.
10. Given the current situation of unexpected events happening in the world, what design tips would you give to people working at home for an easy and fun work office?
A: I think the chair has to be extra comfortable! Also If you can raise your screen it will keep your chin lifted and your neck from aching. You can use a basket that you can collect everything in when it's not in use. Remove any clutter! If you have a lot of materials you work with, organize them on your shelves in a neat way so you can see what you have and be inspired by it instead of overwhelmed. Use really good task lighting, and/or natural light. Lastly, bring in at least one plant! Nature makes everyone feel fresh and energized.
Your living space doesn't need to be boring. Are you considering renting or buying an unfurnished house, apartment or office space in Kigali? This is the perfect opportunity to design a space that fits your taste and Nafasi Interiors may be just what you need!